Powerpoint - PDF with white border
---
You are welcome to convert Powerpoint presentations into PDF format in order to send them to business partners by e-mail, for example. These PowerPoint presentations usually have a CD / CI tailored to the company and should also be converted to PDF. For many PDF printers, whether commercial or open source, there is often the effect of a "white border" appearing in the PowerPoint PDF file. So you can not submit this PDF to business partners. Quick good advice is expensive ... 7-PDF shows you the solution!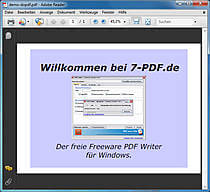 The problem: I have had the problem myself recently. A company presentation should be sent to a business partner via email. Nothing easier than that: To send the CI / CD layout-preserving to the partner, I thought times to quickly convert the presentation created in MS Powerpoint into a PDF. On my office PC, however, I have a PDF printer available for such conversions. Ok, so I print the presentation with this PDF printer as a PDF. Look at it, and see an ugly white border around the actual presentation content. What now? I then tried it with another PDF printer - the same problem.
Some tried page range changes in the print settings of the PDF printer had no noticeable success. Finally, I started my 7-PDF Maker Portable from the USB stick and thus converted the presentation to PDF. There was no white border in the PDF of the presentation. Certainly there are ways to prevent such white margins in a PDF even using a PDF printer. However, for end users, it may be difficult to find the right attitude on their own.
The solution: Those looking for a fast, easy-to-use software solution to the problem should use 7-PDF Maker. There is, as described above, no white borders in PDF from Powerpoint. I have also created a demo presentation with PowerPoint (ppt file). You can do a download of these and test print times on a PDF printer. You will usually see a PDF with a white border in it. We do not want to deprive you of the PDF created with 7-PDF Maker. You can call this directly without a white border.
Finally, here is the direct download link of the freeware PDF writer 7-PDF Maker and the link to portable version for your USB-Stick.