PDF Split and Merge (also: PDFsam) is a platform independent OpenSource software for editing PDF files. A working Java installation (JVM) is required to run and use the PDF program. In addition to the classic use as a pure desktop application, there is also a portable version of PDFsam for the USB stick.
Alternative PDFsam completely without Java
Many users are looking for a free alternative for PDFsam that can also be used without Java. We offer here with our PDF Split and Merge software "7-PDF Split & Merge" a real alternative. With our software you can also edit PDF files without Java. Our software 7-PDF Split & Merge FREEWARE is thus a real alternative to the Java-based PDFsam software, and offers among other things the following functions:
Split PDF files based on a specific page number, as well as splitting by even and odd page numbers, into single pages, and more.
Merge any number of PDF files into a single PDF
Split and merge multiple PDF files at once
Rotate individual and all pages of a PDF file
Save the entire program settings in order to be able to continue working with this status at a later point in time.
How to join PDF files is shown in the following graphic: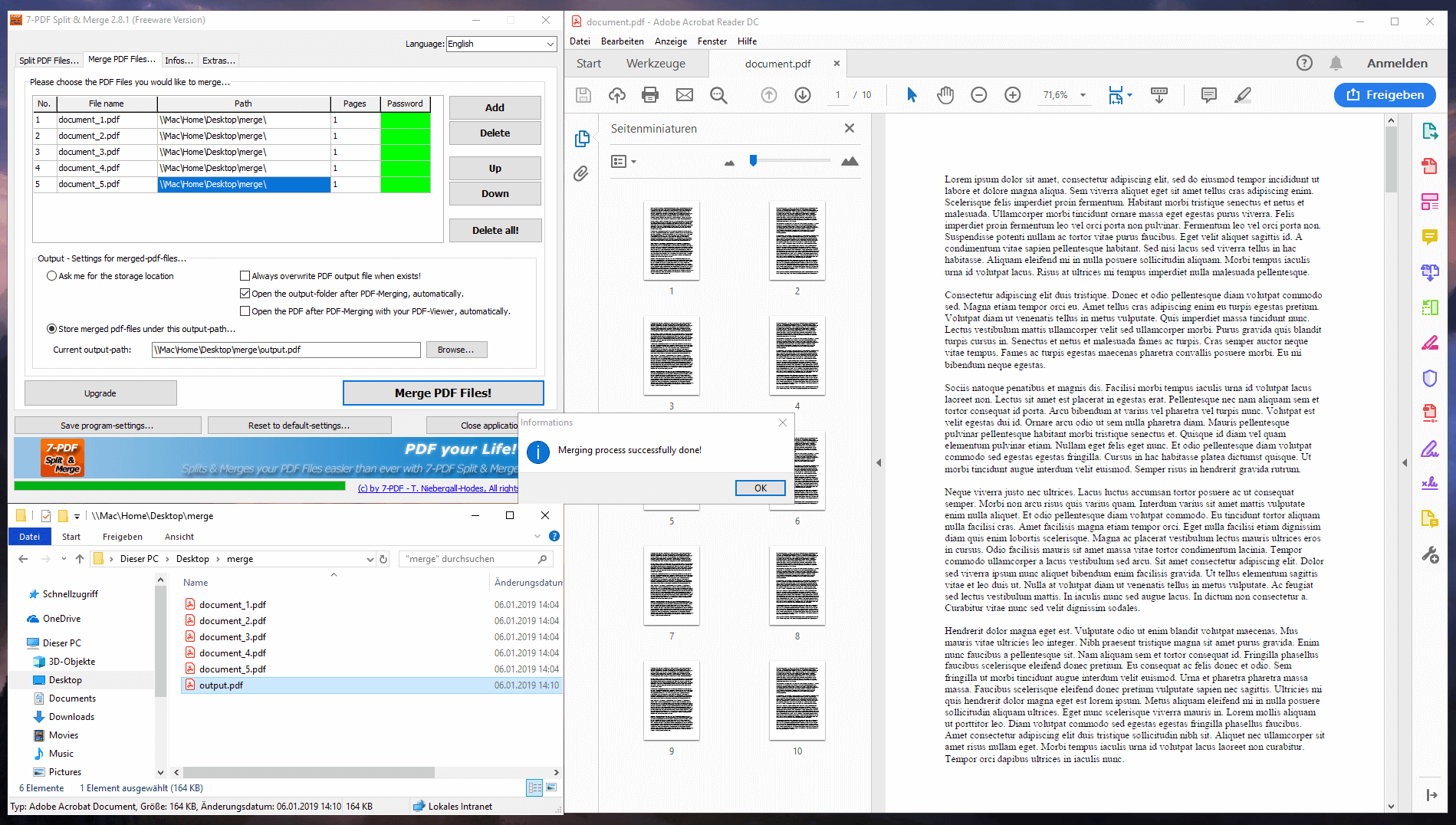 In addition to the freeware edition which is limited to the simultaneous splitting and merging of a maximum of 5 PDF files or when sharing to 50 pages, there are also paid Pro versions available for professional users and companies that do not have this functional restriction and can also be used commercially after licensing (Lifetime license, without further costs - NO subscription).
PDFsam alternative for the USB stick, as well as Citrix and terminal servers
7-PDF Split & Merge is also available as PortableApp for the USB stick. The range of functions to pdfsam as an alternative completely without Java is thus given at least for the operating system Windows and also the USB stick. PDF Split and Merge from 7-PDF is also released for Citrix and terminal servers, and works comparatively fast. Another advantage is its quite resource-saving use, especially in comparison to mostly memory-hungry JAVA - applications. 7-PDF Split & Merge is a native Windows application available in English, German and French. The software itself was developed under Delphi.
More info about our PDF merging tool PDF Split And Merge can be found on this product detail page....