PDF to Word Converter : PDF Editor to change PDF files for free
Here is your Premium PDF to WORD Converter for Windows 11/10 and older
A first class PDF to WORD Converter for WINDOWS. Benefit from our latest PDF to DOC conversion technology and convert even more powerful, more accurate and direct native PDF files to Word! Our pdf converter supports all Word versions from Office 97 and higher, including the latest Microsoft Office Version 2021 and Office 365!
Convert PDF to Word - Edit and change existing PDF files

Convert PDF with just a mouse click! Our first class PDF TO WORD Converter for WINDOWS lets you convert PDF documents to Microsoft Word, OpenOffice and Libreoffice to make (re-) editing the PDF content with these trusted Office applications child's play - and all this with outstanding accuracy!
Transfer PDF tables from Word to Excel

Table contents are also converted with the layout reproduced faithfully, together with images and formatting and much more besides. Imported PDF tables can subsequently also be re-edited by copying & pasting from Word into Excel.
Convert PDF to Word directly in Windows Explorer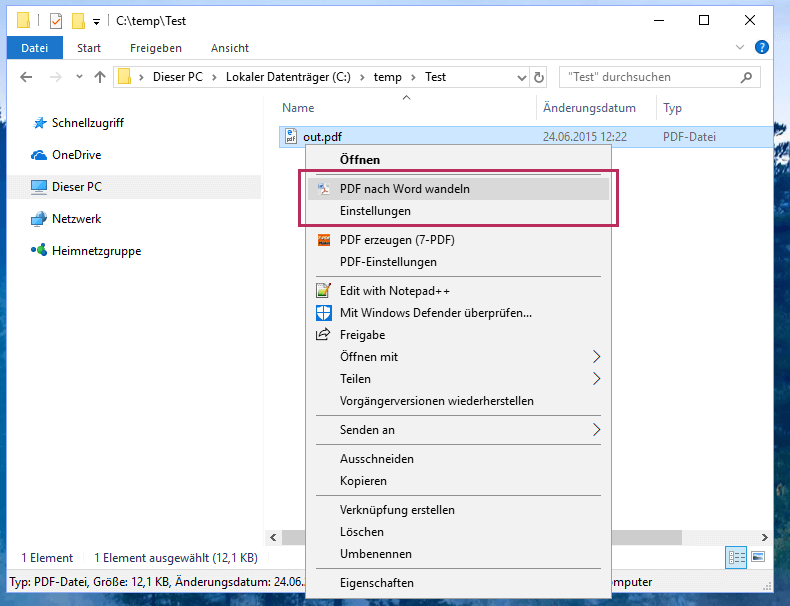 A very comfortable integration of the PDF to Word Converter into the context menu of the Windows Explorer makes it possible to convert one or more PDF files to Word format! Right-click a PDF file in Windows Explorer and start the conversion of the PDF to Word. Your PDF file is automatically converted and saved as a new Word file. After that, the converted PDF file can be edited as Word document directly with Microsoft Word. With our Windows Explorer integration, a PDF conversion of one or more PDF files is done at lightning speed.
PDF in Word Command Line Mode
It is possible to use PDF2Word Converter in CommandLine mode to map automated processes. We offer a special server license (Batch Processing) with one-time license costs of 949 EUR (net). If you are interested, please use our Support form.
PDF to DOC Converter also supports Citrix XenApp and Terminal Servers
In addition to classic installation and use on all current Windows systems, our PDF to Word Converter can also be run on all current Citrix XenApp and Terminal Server Systems be used for multiple users. For administrators in this context probably interesting, in the manual under the section Automatic License Distribution explained how to automatically distribute the fullversion license of the software.
A PDF editor does not have to be complicated
Companies and corporations appreciate the easy handling of the PDF Editor in conjunction with Word & Co., as well as the excellent resource-saving performance and security with unique results in PDF to Word conversion. There feedback after detailed internal proof-of-concept tests confirms our concept - good software does not have to be complicated and functionally completely overloaded. It just has to work!
Premium PDF TO WORD converter
Support for Citrix MetaFrame and Terminal Server
Conversions are running only on your system! No transfer of your pdfs to web/cloud
NEW! Converts PDF files directly inside your Windows-Explorer
CommandLine mode (on request)
Converts PDF documents and tables while retaining layout
Super fast conversion rate
Transfers graphics, text alignment and paragraph formatting to Word
Supports conversion of headers and footers
Transfer of PDF tables of contents to Word
Transfer of PDF links
Identifies and positions lists and list elements
Automatic syllable division for continuous text
Conversion of complex tables for further processing in Excel while maintaining layout
The licence holder may install and use the software without restriction. You can also distribute and transfer this shareware version, although the licensed version is not transferrable and may not be distributed to or used by third parties even after registration.
Restrictions of the shareware:
The free download program version will convert the first three pages of a PDF to MS Word, only. For an unlimited full-version you have to order a license key that can upgrade the shareware installation easily to the unlimited version.
Our PDF to Word converter can be run on current Windows systems from Windows 7 and above. Operation on Terminal and Citrix systems is also possible. We will be happy to provide free support during set-up via our customer support department.
Our software is a nativ PDF to Word Converter, and based not on OCR technology. For an accurate layout conversion to WORD you should use a vector-based PDF (no Scans), all necessary fonts available on your system that are used in the PDF, and the PDF should be in a page size that is compatible with WORD!
What users say:

...My first impression was that the doc conversion works very well: Regarding layout and formatting, there are hardly any differences to the pdf file. I've never seen it that good (in the shareware and freeware section), not even with the online converters.

...I wanted to convert a pdf to edit it later with Word. In search of a suitable freeware, I came across your PDF to Word converter and was completely thrilled by the conversion result in Microsoft Word. The doc2PDF converter makes converting PDF to Word a breeze!

...Convert PDF files to Word for free online is not my thing as I can never be sure what happens with my PDF files. Looking for a PDF Converter that I can install, I came across your PDF to Word Converter. You made me happy...

What companies say:

...We are happy to use the PDF in Word Converter. Our users have rated the handling of your tool so positively that we now want to project a rollout throughout more than 20000 users under Citrix, and so to the entire company.