7-PDF Printer 7.1: Virtual PDF printer for home users for free!
---
Saved from 7pdf on Tue, 01/11/2011 - 17:24
PDF documents can be read on any computer - and like on the phone, a smartphone or an Apple iPad. But how can the display-compatible files actually be generated? The 7-PDF Printer sets up a virtual printer driver under Windows. It allows you to create new PDFs from any program with a print function, quite simply with a mouse click. Home users use the versatile program for free, and companies pay a small fee.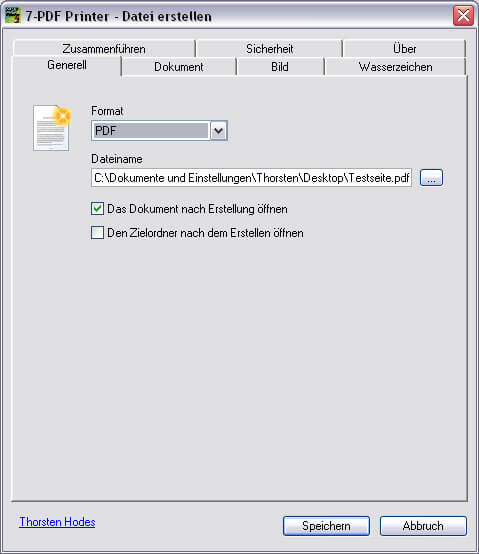 Short summary
7-PDF Printer 7.1 has been released
Set up a virtual printer driver
Generates PDFs from almost any program
Export e.g. also as BMP, EPS, JPG, PCX, PNG, PS or TIFF / MultiTiffs
Selectable PDF presets
Freely Placeable Watermarks
Collection of individual PDF backgrounds (stationery function)
Advanced features for system administrators
Price: for private users free of charge
Price: 23 euros for commercial users
Link: www.7-pdf.de
PDFs increasingly determine our digital life. They allow to exchange formatted documents without problems between persons, computers and operating systems. Even in the mobile sector, the frozen contents of the file are already commonplace. The problem is: Where do the PDFs come from, how do you create them?
7-PDF Printer: Free PDF printer for home users
A solution completely free of charge for home users has the Windows program 7-PDF-Printer ready. Once installed, the tool sets up a Ghostscrypt-based virtual printer driver in the system. From now on, if this printer driver is used to "print" texts, pictures, presentations or number diagrams, the corresponding contents end up in their original formatting in a newly created PDF file.
A first special feature of the versatile software: As an alternative to the Portable Document Format PDF, memory formats BMP, EPS, JPG, PCX, PNG, PS or TIFF are also available.
Anyway, if you do not immediately click on "Save" and create the new PDF with it, you can choose many other settings. So it is possible to name an author, a title, a subject and keywords or to specify that a web quick view is created. Unusual for such a tool is the ability to determine the output quality of the PDF file - this can go to prepress.
If you want, you can also set a watermark on the output pages, place a PDF background (stationery function) in the PDF you want to create, attach the new PDF to an existing file, or encrypt the new PDF file so that it will only contain the Person who knows the password given can be opened.
7-PDF Printer: Extended functionality for system administrators
For private users, the 7-PDF Printer is completely free, companies pay a small fee. But they also get a terminal server-capable software, which stands as her husband in batch mode as a call from another software out.
Developer Thorsten Hodes of the company 7-PDF: "System administrators like using 7-PDF Printer as an easily administrable and flexibly distributed PDF printer module. By providing distributable setup scripts, Citrix Metaframe support, and use on terminal servers, the software provides administrators with a highly reliable PDF creator framework on every conceivable Windows infrastructure."
7-PDF Printer 7.1 (4.3 MB) is now available for download on the homepage (http://www.7-pdf.com). The program requires Windows 2000, XP (also x64), 2003 (also x64), Vista (also x64), 2008 or Windows 7 with GPL Ghostscript 8.64 or higher. If Ghostscript is not available yet, it will automatically be downloaded from the internet. The program is freeware for home users, companies pay 23 euros.
Homepage: www.7-pdf.de
Product Informations: www.7-pdf.de/products/pdf-printer
Documents:

3344neu7pdfprinter.rtf
Imagery:
Screenshots
Further contact details
Information about the responsible company:
Thorsten Hodes, 7-PDF, In der Röd 5, 36132 Eiterfeld
Contact for the press: Thorsten Hodes
Tel.: 01801 / 020 650 814 ? 0 *
Fax: 01805 / 887 8581 40 **
E-Mail: contact@7-pdf.de
Internet: http://www.7-pdf.com
(Tel*./Fax** service numbers! *3,9 ct/min landline, mobile max. 42 ct/min. **14 ct/min landline.)
Journalists should contact the sending agency:
Pressebüro Typemania GmbH
Carsten Scheibe (GF), Werdener Str. 10, 14612 Falkensee
Tel: 03322-50 08-0
Fax: 03322-50 08-66
E-Mail: info@itpressearbeit.de
Internet: http://www.itpressearbeit.de/
HRB: 18511 P (Amtsgericht Potsdam)
This is a press release with timely information for journalists only. This text is not intended for non-industry recipients. The press office is also not authorized to answer non-journalists questions about the product. We are happy to provide the journalists with an interview or provide them with further information. For PC programs, books and games, we can also get a test sample for the journalists? a request by e-mail is sufficient.
We look forward to hearing from you about publications. For online texts, we have a link, otherwise we look forward to a voucher copy, a scan, a PDF or a program recording.