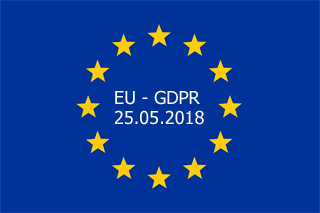 The professional handling of personal data is particularly important to us. The new Europe-wide Data Protection Regulation (GDPR) came into force on 25.05.2018.
Due to the massive increase in data collection in the past on the web, and the associated increased threat potential, the legislator has finally responded to these increasing challenges in data protection and IT security, and strengthened the rights and protection of the individual with the entry into force of the new GDPR.
We protect your data and process it only to the extent permitted by law. Specifically, in October last year (2017), we initiated measures to protect and anonymise your data even more than before.
These measures were in detail:
Conversion of the homepage to SSL to ensure a continuous encryption during the visit and communication via the contact and support form on our website.
Encryption of our mail server communication exclusively via SSL
Change to a flat-file CMS system. These CMS systems do not require a database in the background and are therefore usually more secure than other database-supported systems (keyword: SQL injection).
Change of the chat module. With GoLive of our new website in March 2018 we use the GDPR compliant chat module LiveZilla on our web server.
We've been advertising with Google Adwords in the past. At the end of December 2017, we largely discontinued these efforts and are planning to continue our business without Adwords advertising from May 2018 onwards. We are convinced that we can succeed. By switching off Adwords advertising, we simply have a better sense of protecting you from unwanted personalized tracking.
As of 25.05.2018, all IP addresses will be stored anonymously in LogFiles on our web servers after a maximum of 24 hours and stored for a maximum of 4 days before they are deleted completely automatically. Even if we run the root server ourselves, and third parties do not have access to web server logs, we believe that this protects your personal data even better than before.
Shutdown of Google Analytics with GoLive's new website in mid-March 2018. Again, we just have a better feeling, because even if we have used only Google Analytics with anonymized IP addresses in the past, we still have a better feel. Instead, we only use a general web server log evaluation based on Webalizer, which is more than sufficient for our purposes, and also does not allow any conclusions to persons and purely for our non-personal internal statistical evaluations sufficient.
Creation and documentation of extensive GDPR processing directories which we can provide on request to the appropriate authorities.
Preparation of a new privacy policy. The new GDPR compliant data protection statement was issued by our lawyer Dr. Christian Seyfert, LL.M. (San Francisco, GGU) prepared by our law firm Zeller & Seyfert from Frankfurt and published on 21.05.2018 on our website. We would like to sincerely thank Mr. Seyfert!
Already implemented measures to protect your data in the past are:
Minimizing the collection of personal data. Again, we have endeavored in the past, and have implemented a minimization of the personal data required for license purchases through our distributor shareIt Digital Rivers in 2016. Since then you have been able to obtain a license for our software products from us, with a minimum of personal data.
Waiver of newsletters. Licensees who have been our customers for a long time already know that we have not sent any newsletters in the past and will not pursue them in the future.
Our programs do not collect data and your data remains safely offline on your system. We have been committed to this principle since the creation of 7-PDF in 2008. You can use our programs safely and locally offline, and you do not have to worry about the data being transferred to the web. Especially with regard to cloud-supported applications such as Office 365 or PDF Online converters, we consequently pursue a consistent protection of your datas, documents, files etc.
We are certainly a very small business company to other PDF software manufacturers and companies, which stand in personal liability for the topic of data protection. In the interest of our customers and interested persons, we do everything we can to ensure the privacy and the rights of each of us.
If you have any questions about your stored data, please do not hesitate to contact us.