7-PDF Maker 1.2.0: Freeware converts utility files into PDF documents!
---
Saved by thodes on Wed, 06/29/2011 - 15:31
There is no better way to share formatted documents than using PDF files. But how can they be generated quickly? The 7-PDF Maker, which is equally free for home users and business users, does not set up a new printer driver in the system. Instead, existing files can easily be converted to Portable Document Format (PDF). Version 1.2.0 has new features for developers.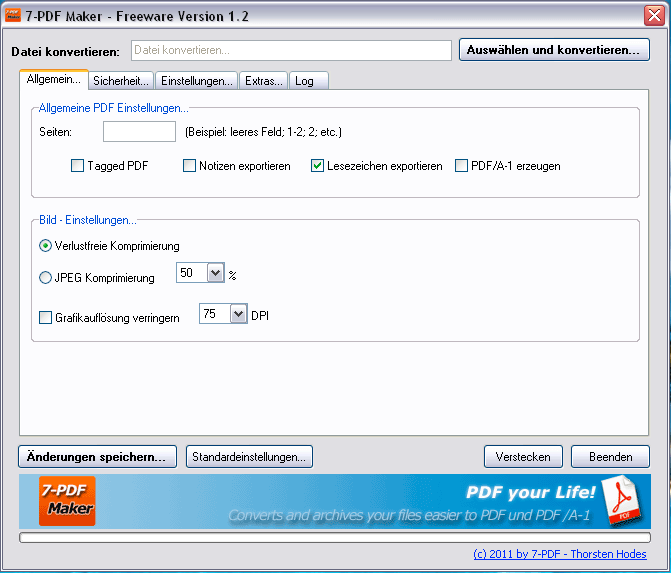 Short summary
7-PDF Maker 1.2.0 has been released
Free tool for Windows machines
Turns files into PDF documents
Supports over 80 file and image formats
Can convert Word references to PDF hyperlinks
Automatically generates PDF tables of contents
NEW: COM interface for Windows developers
Own mobile version for USB sticks
Link: www.7-pdf.de
PDF files are the best way to share formatted content, regardless of the programs and operating systems you originally used. But how is it possible to create PDF files yourself, without having to buy expensive programs? The 7-PDF Maker is offered completely free of charge - for home users and for business people. The Windows tool does not embed a virtual printer driver like the other utilities do. Instead, 7-PDF Maker converts existing files to Portable Document Format.
The 7-PDF Maker can handle over 80 file and image formats to make PDF and PDF / A-1 files. The tool offers some special features. For example, the tool automatically converts e-mail or Web references in Word files into PDF hyperlinks. Paragraph formats can also be used to generate PDF tables of contents. It is also possible to create indexed PDF files with the 7-PDF Maker.
It does not matter if Word, Excel or Powerpoint files are used, if OpenOffice files are to be converted or if HTML files are to be converted into a PDF file: The 7-PDF Maker takes care of the conversion. It is also possible to grant access rights to the new PDF files and enforce 128-bit encryption with password prompting. The integrated Sumatra PDF Viewer offers its services as a PDF viewer.
So that the functionality of the 7-PDF Maker is available at all times, the tool latches itself into the context menu of the Windows Explorer. Thus, the PDF conversion can be easily rung by a right mouse click on an original file.
7-PDF Makers 1.2.0: Now with many features for developers
The new version 1.2.0 offers advanced features for other developers. Thus, a COM interface is available, which allows the developers to integrate the functions of the PDF Maker into their own applications. In this way it is possible to offer your users a PDF conversion.
For developers, many source code examples in Delphi, VB.NET and VB6 are available on the homepage. Also a comprehensive Api documentation is ready. The new component can also be easily accessed from Excel, Word or PowerPoint. With a few lines of VBA macro code, it is possible to immediately convert the Office files to PDF format.
Of course, the 7-PDF Maker is also suitable for automatic software distribution. Using appropriate parameters, the software can also be installed in the background with the COM developer component.
Developer Thorsten Hodes: "The COM interface can be used free of charge, but then inserts a watermark text into each generated PDF. The function can be activated via an OEM developer license. The license key is then stored in your own code to suppress the watermark. Of course, the basic functions of the 7-PDF Maker are still available in the freeware without restriction."
7-PDF Maker 1.2.0: Download now for free
The 7-PDF Maker 1.2.0 works under Windows 2000, XP, VISTA and Windows 7. The freeware (51 MB) can be permanently used for free.
Homepage: www.7-pdf.de
Product Information: www.7-pdf.de/products/pdf-maker/com-interface-pdf-generation-for-developer
Documents:

3582-ThorstenHodes-7-pdf-Maker.doc
Imagery:
Screenshots
Further contact details
Information about the responsible company:
Thorsten Hodes, 7-PDF, In der Röd 5, 36132 Eiterfeld
Contact for the press: Thorsten Hodes
Tel.: 01801 / 020 650 814 ? 0 *
Fax: 01805 / 887 8581 40 **
E-Mail: contact@7-pdf.de
Internet: http://www.7-pdf.com
(Tel*./Fax** service numbers! *3,9 ct/min landline, mobile max. 42 ct/min. **14 ct/min landline.)
Journalists should contact the sending agency:
Pressebüro Typemania GmbH
Carsten Scheibe (GF), Werdener Str. 10, 14612 Falkensee
Tel: 03322-50 08-0
Fax: 03322-50 08-66
E-Mail: info@itpressearbeit.de
Internet: http://www.itpressearbeit.de/
HRB: 18511 P (Amtsgericht Potsdam)
This is a press release with timely information for journalists only. This text is not intended for non-industry recipients. The press office is also not authorized to answer non-journalists questions about the product. We are happy to provide the journalists with an interview or provide them with further information. For PC programs, books and games, we can also get a test sample for the journalists? a request by e-mail is sufficient.
We look forward to hearing from you about publications. For online texts, we have a link, otherwise we look forward to a voucher copy, a scan, a PDF or a program recording.