7-PDF 2 Word Converter 1.0: Makes PDF files editable Word documents again!
---
Stored by thodes on Mon, 12/05/2011 - 14:36
Unfortunately, extracting content from a complex PDF file with tables and columns is easy enough to re-use as you like. The Windows 7-PDF 2 Word Converter tool converts the PDFs into an editable Word format - preserving the principle layout with tables, images and paragraph formatting. By the end of the year, the software costs only half.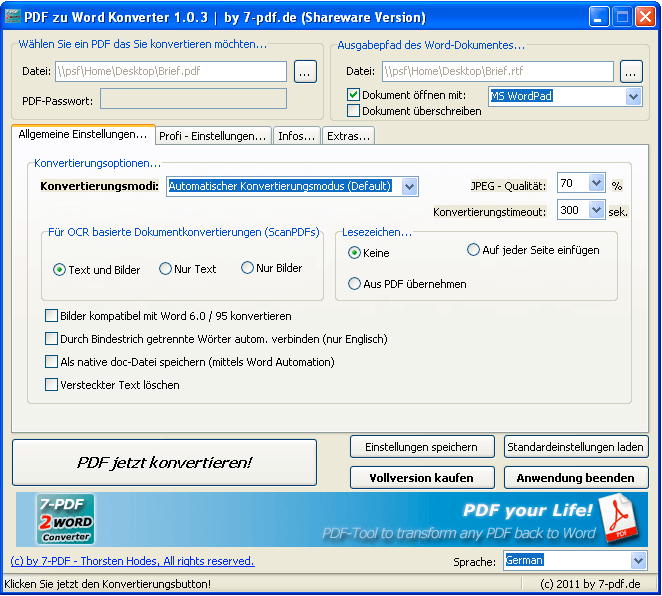 Short summary
7-PDF 2 Word Converter 1.0 has been released
New PDF tool for Windows computers
Converts PDF files to Word or RTF format
Maintains table contents, images, paragraph formatting
Individual fine tuning in the settings
Introductory price: only 10 instead of 19 Euro until 12/31/2011
Link: www.7-pdf.de
PDF files are a wonderful transport medium for distributing content in its original formatting. The recipients can open the PDFs on each machine without having to own the original software in which the file was once created. The disadvantage: PDFs can only be read and printed, but not continue working.
Of course, the texts can be copied out of a PDF by copy and paste. This only works if the PDF does not use a complex layout. A table, a column set, and inserted images: that's enough to turn the contents of the clipboard into useless letter chaos. At least you do not get your PDF-texts into the word processor.
For this reason, the 7-PDF 2 Word Converter starts. The Windows tool converts PDF files fully automatically and without any further action into a freely editable DOC or RTF file. Table contents are transferred just as securely as pictures and paragraph formatting. After that, it is no longer a problem to continue working on the files.
The 7-PDF 2 Word Converter works independently. If you want, but can make a fine tuning in the settings.
Developer Thorsten Hodes of the company 7-PDF: "The new tool completes our product range perfectly. We now offer all the necessary programs from PDF generation to editing existing PDFs to extraction of content from a PDF file. No matter which PDF feature is needed - it can be found in our portfolio."
The 7-PDF 2 Word Converter 1.0 (6.4 MB) is now available for download on the homepage. The program requires Windows 2000, XP (also x64), 2003 (also x64), Vista (also x64), 2008 or Windows 7. A free trial version is available online. But it only takes over the first three pages at a time into a new Word / RTF file.
The full version costs 19 euros. Until the end of the year, an introductory price of only 10 euros applies. The Fair Play licensing policy states that all future updates are free.
Homepage: www.7-pdf.de
Product Information: www.7-pdf.de/products/pdf-to-word-converter
Documents:

3830-7PDF2Word.doc
Imagery:
Screenshots
Further contact details
Information about the responsible company:
Thorsten Hodes, 7-PDF, In der Röd 5, 36132 Eiterfeld
Contact for the press: Thorsten Hodes
Tel.: 01801 / 020 650 814 ? 0 *
Fax: 01805 / 887 8581 40 **
E-Mail: contact@7-pdf.de
Internet: http://www.7-pdf.com
(Tel*./Fax** service numbers! *3,9 ct/min landline, mobile max. 42 ct/min. **14 ct/min landline.)
Journalists should contact the sending agency:
Pressebüro Typemania GmbH
Carsten Scheibe (GF), Werdener Str. 10, 14612 Falkensee
Tel: 03322-50 08-0
Fax: 03322-50 08-66
E-Mail: info@itpressearbeit.de
Internet: http://www.itpressearbeit.de/
HRB: 18511 P (Amtsgericht Potsdam)
This is a press release with timely information for journalists only. This text is not intended for non-industry recipients. The press office is also not authorized to answer non-journalists questions about the product. We are happy to provide the journalists with an interview or provide them with further information. For PC programs, books and games, we can also get a test sample for the journalists? a request by e-mail is sufficient.
We look forward to hearing from you about publications. For online texts, we have a link, otherwise we look forward to a voucher copy, a scan, a PDF or a program recording.