You can encrypt PDF files with a password using our PDF printer from almost any Windows application.
Save PDF - Here's how
Start printing from your application and select "7-PDF Printer" in the printer selection.
After starting the printing process, the print dialog window of the PDF printer opens.
Switch to the tab "Security".
Set a "owner password" and if required a "user password" for your PDF.
The key length of the password should not be selected under 128 bit to effectively protect the PDF.
Now select the permissions that should be restricted accordingly below.
Now press Save to finally print the password-protected PDF.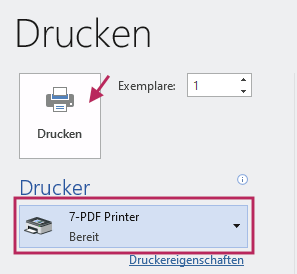 Figure 1: From the applications Microsoft Word 2016, here under Windows 10, we print on 7-PDF Printer to generate the PDF.

Figure 2: Set PDF security!
Download the free Community Edition here to protect your PDF files effectively!
You can find more information about our PDFCreator on our product page...