7-PDF Split & Merge 2.0: Freeware cuts PDFs apart and puts them together again!
---
Saved by thodes on Wed, 04/13/2011 - 15:11
The Windows-Freeware 7-PDF Split & Merge 2.0 is able to cut existing PDF files to save the individual pages in stand-alone PDF files. It is also possible to merge several individual PDFs into one new file. If necessary, the program can also be used in a portable version directly on a USB stick. The tool attaches great importance to speed - it works about 3 times faster than the competition.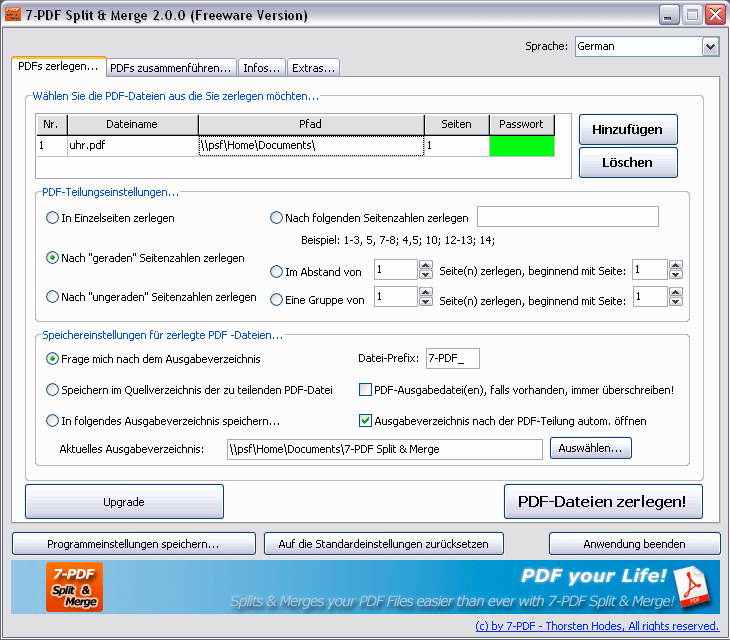 Short summary
7-PDF Split & Merge 2.0 has been released
Tool for Windows machines
Decomposes existing PDF files into individual pages
Adds multiple PDF files to a new file
Very fast operation of the tool
Password entry directly in the software
Own mobile version for USB sticks
Freeware version for home users
Price: 15 euros for pro version
Link: www.7-pdf.de
PDF files are great for "freezing" formatted content and sharing it with friends, acquaintances, and work colleagues. The recipients can read and print the file contents in their original design without having to own the original software. Only a free PDF reader is needed.
The problem is: The PDF files are rigid and inflexible. Without an expensive PDF suite you can not put the pages on the bone. Thorsten Hodes offers under the series title 7-PDF equal to several tools, which succeed even without high cost to move the PDF files on the Pelle.
7-PDF Split & Merge 2.0: Cut and re-compose PDF files
New is the Windows tool 7-PDF Split & Merge 2.0. It is capable of cutting existing PDF files. Thus, from a file with many pages, you can specifically cut out those that the user still needs. They are stored in a new PDF file. It is possible to specify exactly where in a PDF file the tool should start the cuts. If a password is needed to open a PDF file, it can be captured directly in the tool.
7-PDF Split & Merge 2.0 likes to go the other way too. The tool merges several individual PDF files into a new, shared PDF. This makes it easy to keep things organized on your own hard drive and make a large one out of several small files, which may then bundle several pages into one topic.
The program can be installed on your own hard disk. But it is also possible to download a mobile version and copy it to a mobile USB stick. Here it works without installation and can be used on any computer in which the USB stick was inserted.
Thorsten Hodes: "In the development of the new version 2.0, we paid particular attention to the pace. 7-PDF Split & Merge now works almost three times faster than comparable Java PDF Split & Merge Tools when splitting and merging."
7-PDF Split & Merge 2.0: Freeware and Pro-Version
7-PDF Split & Merge 2.0 works under Windows 2000, XP, VISTA and Windows 7. The freeware can be used permanently by private users free of charge. However, the tool disassembles only the first 50 pages of a PDF file and adds a maximum of five pages to a new file.
The Pro version completely removes this restriction. It can also be used commercially. The full version costs 15 euros (10 euros until April 15, 2011). The license key can be used with both the fixed and the mobile version of the tool. Future updates no longer have to be paid.
Developer Thorsten Hodes of the company 7-PDF: "Until September 30, we offer our customers a special summer discount of more than 15 percent on the commercial version of the 7-PDF Printer." (4174 characters, released for free reprint)
Homepage: www.7-pdf.de
Product Information: www.7-pdf.de/products/pdf-split-and-merge
Documents:

3480-7pdf-splitandmerge.rtf
Imagery:
Screenshots
Further contact details
Information about the responsible company:
Thorsten Hodes, 7-PDF, In der Röd 5, 36132 Eiterfeld
Contact for the press: Thorsten Hodes
Tel.: 01801 / 020 650 814 ? 0 *
Fax: 01805 / 887 8581 40 **
E-Mail: contact@7-pdf.de
Internet: http://www.7-pdf.com
(Tel*./Fax** service numbers! *3,9 ct/min landline, mobile max. 42 ct/min. **14 ct/min landline.)
Journalists should contact the sending agency:
Pressebüro Typemania GmbH
Carsten Scheibe (GF), Werdener Str. 10, 14612 Falkensee
Tel: 03322-50 08-0
Fax: 03322-50 08-66
E-Mail: info@itpressearbeit.de
Internet: http://www.itpressearbeit.de/
HRB: 18511 P (Amtsgericht Potsdam)
This is a press release with timely information for journalists only. This text is not intended for non-industry recipients. The press office is also not authorized to answer non-journalists questions about the product. We are happy to provide the journalists with an interview or provide them with further information. For PC programs, books and games, we can also get a test sample for the journalists? a request by e-mail is sufficient.
We look forward to hearing from you about publications. For online texts, we have a link, otherwise we look forward to a voucher copy, a scan, a PDF or a program recording.