Often it makes sense to have one or the other software always "mobile" on a USB stick. Especially in the field or at work in the office with the portable applications is an interesting alternative ready. These "PortableApps" only need a freely accessible USB port on the PC to start directly from. So they need minimal administrative rights and no installation on the PC system which is almost impossible on most PCs at work and on the move.
Most portable applications can also be easily copied from the USB stick to the PC desktop and can be started from there. Actually, nothing special for Mac users - but on a Windows PC has a certain charm.
Meanwhile, countless applications are available as a portable version. Starting with whole office packages such as AbiWord or OpenOffice.org, browsers like Firefox, email programs like Thunderbird, graphics programs like Gimp to name but a few. You can put together a really useful software collection for your USB stick with the portable programs and take it everywhere with you.
7-PDF Maker Portable / The PDF Creator for your USB stick
Download PDF Maker Portable (54MB)
So far, there was hardly the possibility to create PDF files with a portable PDF Creator. Reason for this: Most PDF producers are installed as a virtual PDF printer driver. And driver software usually needs administrative rights, and you can not use it without installation. The purpose of a portable application is to avoid installation, administrative rights and the like. Ergo - there are few alternatives that make it possible to use a PDF generator software portable on a USB stick.
Of course, we are proud to be able to offer you an alternative PDF software for the USB stick with 7-PDF Maker Portable. Because 7-PDF Maker Portable provides all the convenient PDF generator functionality on the USB stick. You can now also generate PDF files directly from the USB stick.
So - try out the portable software 7-PDF Maker Portable on your USB stick. What speaks against it? Have fun with the "portable applications".
Instructions: USB stick installation
Step 1: Start the installation program of the EXE file just downloaded from this page (red download button above). A double click should be enough.
If you have not already done so, first install the "PortableAppsLauncher" on the USB stick connected to your PC. The PortableApps Launcher is a "Start Menu Platform" (similar to the Start menu of Windows) which is provided as an open source program for free and especially for USB sticks on portableapps.com. Further information about the PortableApps Launcher can be found in this manual below. To do this, start the setup file "PortableApps.com_Platform_Setup_16.0.2.paf.exe" and follow the instructions of the installation program.
Note: If you already have the PortableApps Launcher installed on your USB stick or portable drive, Step1 is not necessary. All screenshots below may differ from the latest version. The documentation steps are also valid for newer versions of the programs and should be helpful.
Step 2: After installation, you can start the PortableApps Launcher by double-clicking on the connected USB stick "Start.exe" with the left mouse button.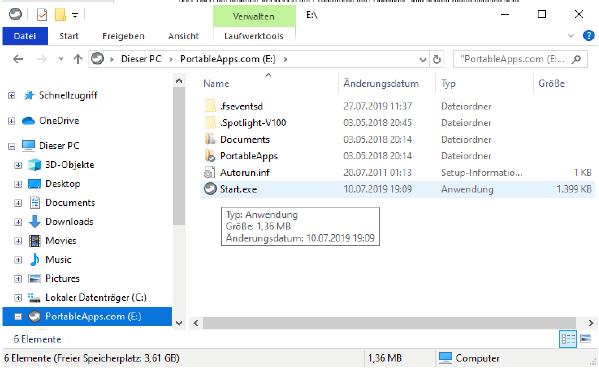 The launcher also integrates itself directly as an icon in the system tray menu of Windows, and can easily be accessed again whenever necessary, as long as the USB stick is connected.


From the installed PortableApps Launcher, select "Applications" and then "Install a new App (paf.exe)" to install "7-PDF Maker Portable". After installation you can start 7-PDF Maker via the program listing in the left area of the launcher and use the USB stick also mobile and portable on any PC.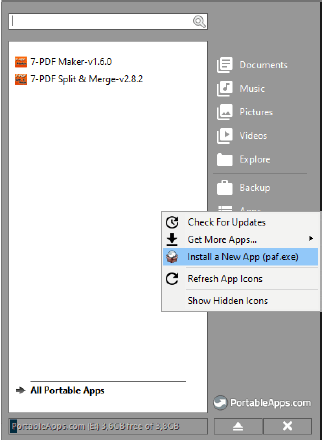 Simply select the corresponding "PAF.EXE" setup file as shown in the following dialog and follow the instructions of the installation program.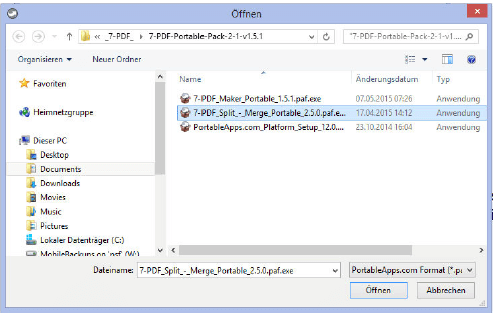 General information about the PortableApps - Launcher
At www.portableapps.com you will find other prominent USB stick variants of numerous programs such as LibreOffice, Thunderbird etc. All programs have been "reprogrammed" specifically for the USB stick to have them portable with a USB stick mobile and if necessary via stick to be able to use everywhere where necessary.
The Portable Apps Launcher is an open source application (GPL license) developed not by 7-PDF but by John T. Haller of www.portableapps.com. 7-PDF Maker Portable, as well as our 7-PDF Split and Merge Portable product, use the PortableApps Launcher as a "platform" for the USB stick.
The open source license of the launcher is not transferable to the 7-PDF programs, all 7-PDF applications are subject to the respective license terms of 7-PDF, Thorsten Niebergall-Hodes.
You can find more information about our 7-PDF Maker on this Product detail pages...